31 May, 2021
He is passionate about local derbies, loves Swedish club Hammarby and has played 11 A-national matches for Finland. And he likes to travel with Nickes.Com…
"I really appreciate your professional service," says football-mad Krille Mattsson.
London, Munich, Glasgow, Budapest, Cyprus, Madrid, Barcelona, Stockholm, Rome, Milan… the list of cities in which 57-year-old Krille Mattsson from Åland in Finland has witnessed a football derby is almost endless.
Slept in a QPR shirt
"I was only four years old when my father, who was a FIFA referee, came home with a QPR shirt. I fell in love with it and wore it all the time, even when I slept. My mother was not even allowed to wash it," remembers Krille, whose interest in sport in general and football in particular has taken him on trips around the world.
Krille Mattsson is a well-known footballer in his native Finland and not least in Åland. He played for IFK Mariehamn since he was a little boy and appeared in 233 matches, scoring 82 goals. Krille also managed to appear in 11 A-international matches for Finland before hanging up his boots as a 28-year-old. After his football career, Krille worked for almost two decades at the gaming company Paf, where he was responsible for purchasing travel, among other things.
Incredible sound level
"We often combined sights and sightseeing with visits to vineyards and other activities. Very nice trips," says Krille, who has been to South Africa four times and to Las Vegas on several occasions. Boston, New York, Miami, the Caribbean, Singapore and Rio de Janeiro are other destinations that Krille can tick off on his long travel list.
"I have experienced the European Championships and the World Cup on site in both football and hockey. The opening match of the Euro 2012 between Poland and Greece is one of my best travel memories. The sound level was incredible, the Poles shouted for 90 minutes. I also saw Sweden's three group games in Kiev." The FA Cup final between Liverpool and West Ham in 2006 is another live experience that has etched itself in Krille's memory.
Gerrard hero in Cardiff
"The match would have been played at New Wembley but the arena was not finished in time so the final was moved to the Millennium Stadium in Cardiff, and we took the train from London. Liverpool came from behind to win and Steven Gerrard became a great hero. It was emotionally powerful when Liverpool fans sang You'll Never Walk Alone!"
Krille's latest football trip was to Milan in the autumn of 2019 and was booked with Nickes.Com: "A wonderful football trip! We saw Inter vs Juventus and it was a real highlight. However, we almost missed the kick-off as it was difficult to find a parking space for the bus. San Siro is a great arena and the atmosphere at the match was fantastic! Dybala gave Juventus the lead but Martinez equalised for Inter before Higuaín scored the winner for Juve," says Krille who also remembers the Milan trip for another reason.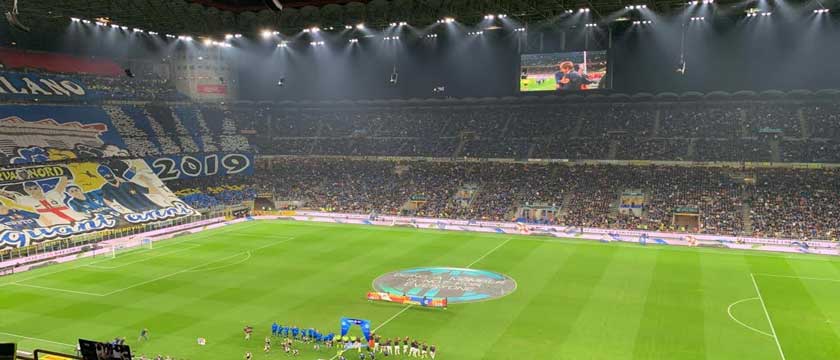 Cinnamon buns for everyone
"One of the guys who was with us worked as a baker. On Cinnamon Bun Day, which fell when we were down there, he told me to make coffee and he would arrange cinnamon buns. He had brought buns for the whole gang, almost 50 people!" Krille's travel party, which consisted of Swedes, Finns and Estonians, also got to test their knowledge in a quiz that was arranged in connection with a wine tasting.
"Otherwise I have not been a huge fan of Italian football, even though I have had many favorite Italian players, not least Franco Baresi. The food and drinks are the best thing about Italy, I love to try different cheeses and charcuterie. That's why I love Nickes.Com's concept FOODball EATalia," says Krille, who, just like us other football lovers, longs to see matches live again.
Love Bajen
"Normally, I watch two or three top matches live every year, but now it has been a year and a half since my last trip. When the pandemic is over, I want to go over to Stockholm and see my favorite team Hammarby play. Bajen's fans are outstanding and there is an incredible atmosphere and mood in the stands."
Krille also dreams of returning to the Westfalenstadion in Dortmund to experience the famous "Yellow Wall", Europe's largest standing section with room for almost 30,000 spectators.
"I will stay in Düsseldorf and drink Altbier at the world's longest bar strip." A football derby that Krille Mattsson has not yet visited is the battle for Athens between Olympiakos and Panathinaikos.
Professional service
"Of the matches I have not yet seen, the red-hot Greek derby is the one I would most like to experience. I would like to watch the match at Karaiskakis Stadium in the port city of Piraeus, the atmosphere there is supposed to be awesome!"
No matter where the next trip goes, Krille is happy to go with Nickes.Com again…
"You offer a very professional service with fast and clear communication. I appreciate that," Krille concludes. And we appreciate customers like Krille, who are happy to share their experiences.
Have you also been on a sports trip with Nickes.Com? Email us and tell us more about it and feel free to send us some pictures.