10 May, 2021
Culture, food, espresso and not least - football.
Staffan Arlefalk loves everything to do with Italy.
Assisted by Nickes.Com, he is now planning a dream trip where he will watch matches at all Serie A arenas during one season!
Next year, Staffan Arlefalk from Åhus in Scania, Sweden will turn 40 and the birthday present he intends to give himself is out of the ordinary. Staffan is a passionate supporter of Italian football and loves most things that have to do with the boot-shaped country on the Mediterranean. Now he wants to travel around and visit stadium after stadium in Italy. "We cannot imagine a better birthday present! The family can also come along, even if there will not be so much football for them," says Staffan, who works as an operations manager at a sweets company.
Milan is his favourite club
The family consists of partner Alexandra and sons Frans (1) and Sigge (3). The latter has, incidentally, been on football trips before: "Sigge made his debut at the San Siro when he was just seven months old," says Staffan. AC Milan has been Staffan's favourite team since the club's heyday in the early 1990s when "Rossoneri" were not only the best in Italy but also dominated in Europe. He gets emotional when names like Gullit, Maldini and Donadoni come up. "Football is my great passion in life and I get almost depressed when I cannot watch matches live," says Staffan who in addition to Milan also watched Serie A football in Bergamo, Rome and Turin, among other places.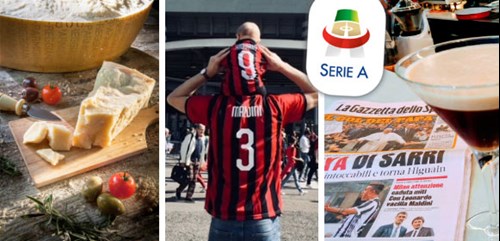 Send your interest for AC Milan 2021/2022
Love Italian culture
Now the plan is to make a dream trip during which he sees matches at all Serie A arenas in the country. "If there is full capacity intake in the spring of 2022, I will start then, otherwise I will wait until the 2022/23 season. The idea is to manage this by taking in two weekends at a time, and then it is important that I find rounds when there are matches in midweek." That Staffan - who has also made many football trips to England – chose Italy for his dream trip, has its special reasons. "On the one hand, I am very fond of the whole Italian culture. And the prices of match tickets are significantly lower in Italy. For a corresponding trip in England my budget would not be able to handle it!"
Hope for Lecce
Milan and Rome will in all probability become base destinations on the trips and from there Staffan and his family will travel by train between the cities. Train prices are also lower in Italy than in many other major football countries. It remains to be seen which teams will play in Serie A next season, but it is clear there will be an emphasis in northern Italy where most clubs belong. "I hope that Lecce go up so there will be another team from southern Italy. The schedule for the trip will be very intense but I hope to get a couple of rest days when I can come up with something other than football."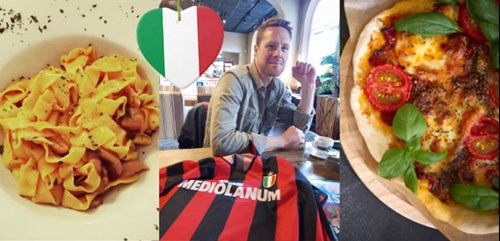 Hanging out at the bar
On match days, there will be football from morning to evening. He will try to soak up as much of the atmosphere as possible before the matches, hang out in the Espresso bar, browse the pink cult paper La Gazzetta dello Sport (which he also subscribes to!) and arrive early at the stadium. "The dream would be to see the derby between Milan and Inter. I really long for the game schedule to come out. Then I can start planning in earnest, but already now I am studying history, culture and different destinations. I do not know the language yet but catch up a bit through La Gazzetta and also think about taking a course and learning the basics," says Staffan who together with three friends has a slightly different travel tradition that is repeated every year.
Two of the friends book the trip without revealing to the other two where it is going. On the way to the airport, the other two start guessing the destination. "It is always fun to be surprised, but also to plan the trip. We have been around large parts of Europe. But now there is full focus on Italy." We will return with a new report on Staffan's dream trip to Italy, when the fixture list for next season is released this summer.
Send your interest for Serie A 2021/2022
STAFFAN ARLEFALK
Born: 1982 Lives: In Åhus, 100m from the sports field.
Family: Alexandra and children, Frans, 1 year, and Sigge, 3.
Profession: Purchasing manager and operations manager at a candy company
Favourite teams: Liverpool and AC Milan.
Own football qualifications: Played 20 years in Yngsjö IF but was forced to quit due to injury. "At night I still dream of playing for a big club."
3 favourite players in Serie A: Ruud Gullit, Roberto Baggio and Paolo Maldini.