New York Rangers
vann Stanley Cup senast 1994 och de kräsna fansen har krävt en ny mästerskapstitel ända sedan dess. Ta chansen att åka på hockeyresa till New York och kombinera matupplevelser, shopping och hockey i världsklass.
Tänk er att först strosa runt i Central Park på Manhattan i New York innan ni avnjuter en god lunch på exempelvis Tavern On the Green eller The Loeb Boathouse. Mätta och belåtna strosar ni sedan runt på Broadway och shoppar innan det har blivit dags att ta er tillbaka till hotellet för att lämna av kassarna innan ni styr kosan mot klassiska och mytomspunna Madison Square Garden där New York Rangers spelar sina hemmamatcher. Arenan som tar 18 200 åskådare ligger centralt placerad på Manhattan och under den återfinns den viktiga knutpunkten för kollektivtrafik, Penn Station.
New York Rangers har spelat i NHL sedan 1926 och är ett av de klassiska lagen i ligan och räknas med bland "original six"-lagen där övriga är Boston Bruins, Toronto Maple Leafs, Detroit Red Wings, Montreal Canadiens och Chicago Blackhawks. Rangers har vunnit Stanley Cup vid fyra tillfällen och kraven från fansen är stenhårda inför varje säsong på en femte. Boka NHL biljetter till New York med oss!
Prisexempel för hotell & biljetter:
Två nätter på 3*** hotell på Manhattan i dubbelrum exkl.frukost och hockeybiljett
Pris per person utan flyg från: SEK 2 995

Flyg från Stockholm, Göteborg, Köpenhamn kostar från: SEK 3 200 per person
Prisexempel för enbart biljetter: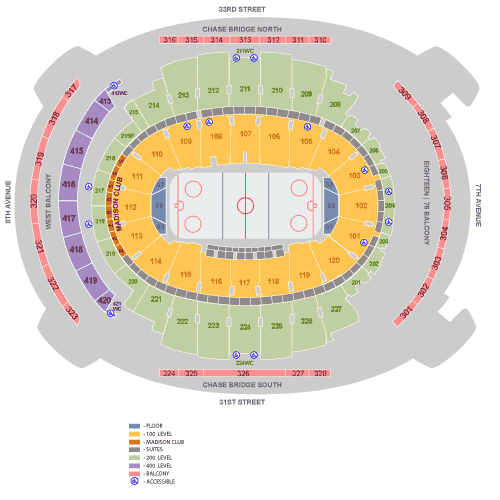 ---
Kortsida (sektion 413-420) = 1595 SEK styck
Långsida (sektion 208-214, 221-227) = 1795 SEK styck
Kortsida (sektion 110-114, 101-104, 120) = 2495 SEK styck
Långsida (sektion 104-109, 115-119) = 3495 SEK styck
---
Kortsida (sektion 413-420) = 1895 SEK styck
Långsida (sektion 208-214, 221-227) = 2195 SEK styck
Kortsida (sektion 110-114, 101-104, 120) = 2895 SEK styck
Långsida (sektion 104-109, 115-119) = 3895 SEK styck
---
Kortsida (sektion 413-420) = 2095 SEK styck
Långsida (sektion 208-214, 221-227) = 2595 SEK styck
Kortsida (sektion 110-114, 101-104, 120) = 3195 SEK styck
Långsida (sektion 104-109, 115-119) = 4295 SEK styck
---
Kortsida (sektion 413-420) = 2295 SEK styck
Långsida (sektion 208-214, 221-227) = 2795 SEK styck
Kortsida (sektion 110-114, 101-104, 120) = 3495 SEK styck
Långsida (sektion 104-109, 115-119) = 4495 SEK styck
| | | | |
| --- | --- | --- | --- |
| New York Rangers - Nashville Predators | 2018-10-04 | New York | Madison Square Garden |
| New York Rangers - San Jose Sharks | 2018-10-11 | New York | Madison Square Garden |
| New York Rangers - Edmonton Oilers | 2018-10-13 | New York | Madison Square Garden |
| New York Rangers - Colorado Avalanche | 2018-10-16 | New York | Madison Square Garden |
| New York Rangers - Calgary Flames | 2018-10-21 | New York | Madison Square Garden |
| New York Rangers - Florida Panthers | 2018-10-23 | New York | Madison Square Garden |
| New York Rangers - Buffalo Sabres | 2018-11-04 | New York | Madison Square Garden |
| New York Rangers - Montreal Canadiens | 2018-11-06 | New York | Madison Square Garden |
| New York Rangers - Vancouver Canucks | 2018-11-12 | New York | Madison Square Garden |
| New York Rangers - Florida Panthers | 2018-11-17 | New York | Madison Square Garden |
| New York Rangers - Dallas Stars | 2018-11-19 | New York | Madison Square Garden |
| New York Rangers - New York Islanders | 2018-11-21 | New York | Madison Square Garden |
| New York Rangers - Washington Capitals | 2018-11-24 | New York | Madison Square Garden |
| New York Rangers - Ottawa Senators | 2018-11-26 | New York | Madison Square Garden |
| New York Rangers - Winnipeg Jets | 2018-12-02 | New York | Madison Square Garden |
| New York Rangers - Arizona Coyotes | 2018-12-14 | New York | Madison Square Garden |
| New York Rangers - Vegas Golden Knights | 2018-12-16 | New York | Madison Square Garden |
| New York Rangers - Anaheim Ducks | 2018-12-18 | New York | Madison Square Garden |
| New York Rangers - Philadelphia Flyers | 2018-12-23 | New York | Madison Square Garden |
| New York Rangers - Columbus Blue Jackets | 2018-12-27 | New York | Madison Square Garden |
| New York Rangers - Pittsburgh Penguins | 2019-01-02 | New York | Madison Square Garden |
| New York Rangers - New York Islanders | 2019-01-10 | New York | Madison Square Garden |
| New York Rangers - Carolina Hurricanes | 2019-01-15 | New York | Madison Square Garden |
| New York Rangers - Chicago Blackhawks | 2019-01-17 | New York | Madison Square Garden |
| New York Rangers - Philadelphia Flyers | 2019-01-29 | New York | Madison Square Garden |
| New York Rangers - Tampa Bay Lightning | 2019-02-02 | New York | Madison Square Garden |
| New York Rangers - Boston Bruins | 2019-02-06 | New York | Madison Square Garden |
| New York Rangers - Carolina Hurricanes | 2019-02-08 | New York | Madison Square Garden |
| New York Rangers - Toronto Maple Leafs | 2019-02-10 | New York | Madison Square Garden |
| New York Rangers - Minnesota Wild | 2019-02-21 | New York | Madison Square Garden |
| New York Rangers - New Jersey Devils | 2019-02-23 | New York | Madison Square Garden |
| New York Rangers - Tampa Bay Lightning | 2019-02-27 | New York | Madison Square Garden |
| New York Rangers - Montreal Canadiens | 2019-03-01 | New York | Madison Square Garden |
| New York Rangers - Washington Capitals | 2019-03-03 | New York | Madison Square Garden |
| New York Rangers - New Jersey Devils | 2019-03-09 | New York | Madison Square Garden |
| New York Rangers - Detroit Red Wings | 2019-03-19 | New York | Madison Square Garden |
| New York Rangers - Pittsburgh Penguins | 2019-03-25 | New York | Madison Square Garden |
| New York Rangers - St. Louis Blues | 2019-03-29 | New York | Madison Square Garden |
| New York Rangers - Ottawa Senators | 2019-04-03 | New York | Madison Square Garden |
| New York Rangers - Columbus Blue Jackets | 2019-04-05 | New York | Madison Square Garden |